On Tuesday April 14th we had our fourth and final mini conference in the helix, DCU. This conference, however, was different from the others as we began the afternoon with the presentation and judgement of the research posters that we did on Cloud Computing. After the poster presentation finished we all moved into the conference room to begin our two hour conference. As usual we had a wide variety of speakers such as the Global CEO of CoderDojo, the Director of Cloud Business Development EMEA of Oracle, the business development director of SAP Ireland and, finally, a partner and co-founder of Frontline Venture Capital.
---
Sean kicked off the conference with an introduction to Cloud Computing by telling us all about IC4. IC4 is the Irish centre for cloud computing and commerce which is a technology centre funded by enterprise Ireland. Sean Kept his speech short and sweet simply telling us about his work with IC4 and the clinics, workshops and seminars that they run. The workshops allow you to work on projects or to simply propose a project yourself.
After finishing his speech Sean introduced the Speakers that we would be hearing from and then handed the stage over to the next speaker, Mary Maloney.
---
Our next Speaker was Mary Maloney the Global CEO of CoderDojo. CoderDojo is a global network of free, volunteer-led, programming clubs for young people in which they learn how to code, develop websites, apps, games in an informal and creative environment. Ms. Maloney has been working for CoderDojo for the past year and before that she was a partner in Accenture.
Ms. Maloney's speech was focused entirely on CoderDojo and she spoke of what their aims  are, what they have achieved and, why they are important. The aims of CoderDojo are to give children a basic competency and background in coding and computers which will serve them well in the future when they being searching for employment. CoderDojo have 600 Dojo's located throughout 58 countries and new one are constantly being set up. The 'ninjas' in CoderDojo have some incredible achievements such as the map of Ireland showing points to plug in electric cars that indicate when they're available as well as a game developed to help people with dyslexia. According to Ms. Maloney CoderDojo are important because they are encouraging young people to work in the programming industry which deals with the monumental shortage of programmers. CoderDojo are also important because they create equal opportunity in the workplace as everyone is given an equal opportunity to learn and develop skills. There is also a focus on getting girls into Dojos to change the ratio of men to women in the technology industry.
Overall, I found Ms. Maloney's speech incredibly interesting and informative and deeply regret that I am not the right age to avail of the Dojo's. The one negative aspect of Ms. Maloney's speech was that, in my opinion, the Dojo's shouldn't be divided by gender as I believe that it creates a prejudice that male coders are better than the female ones which I think will be carried forward into the workplace in the future. However, despite this I feel extremely positive about Ms. Maloney's speech and wish them the best of luck with their future exploits.
---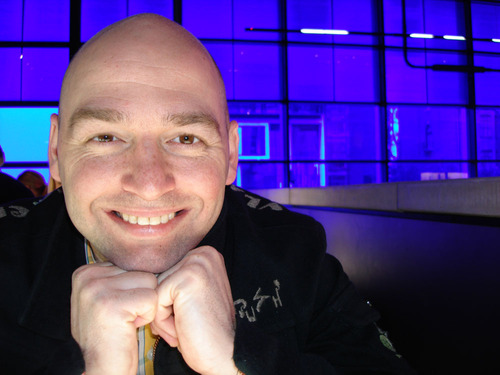 Our next speaker of the day was Richard Garsthagen, the Director of Cloud
Business Development EMEA for Oracle. Oracle is an American multinational computer technology corporation which specializes in developing and marketing computer hardware systems and enterprise software products.
The theme of this talk was digital transformation with the help of the cloud. Mr. Garsthagen began his speech by listing 5 reasons to love the cloud – including drives innovation and simplifies IT – and giving us several definitions for the cloud.  Mr. Garsthagen then went onto discuss digital disruption before finishing by telling us how to join the community of cloud innovators and enablers. Of all the definitions that Mr. Garsthagen gave us for the cloud the one that struck me the most was:
According to Mr. Garsthagen Digital disruption is the change that occurs when new digital technologies, or business models, affect the value proposition of existing goods and services. Digital disruption affects value and new companies  that are built on those business models are challenging other and threatening threatening even the most entrenched industries. Mr. Garsthagen believes that the companies that don't succumb to the necessary changes will soon be gone.
"IT used to be pretty stable"
To finish his speech Mr. Garsthagen gave us some helpful advice on how to join the ranks of the cloud users. This advice included gems such as :
Think out-side-the-box and never be afraid of failure. Cloud Computing lets you fail at a low cost.
Build your business plans on the new principles of Cloud
Overall, I found Mr. Garsthagen's speech to be incredibly helpful and encouraging as it lead audience members to feel positively about the cloud and to want to embrace cloud technology in the future.
---
The next speaker we heard from was John Massey, the business development director EMEA of S.A.P Ireland. S.A.P (Systems, Applications & Products in Data
Processing) is a German multinational software corporation that makes enterprise software to manage business operations and customer relations. The company has over 282,000 customers in 190 countries. S.A.P Ireland have 1,650 employees and work through 29 languages.
Mr. Massey's speech focused on the S.A.P cloud computing which he has been managing for the past year and the impacts of cloud computing on businesses. In the cloud world people expect rapid, relevant responses where they used to expect to be left waiting for days to get a response. This means that businesses must employ tech savvy workers to deal with this. Mr. Massey believes that $20 billion will be spent on mobile, analytic's and cloud in the next five years. Mr. Massey then went on to discuss how 50% of recruitment is done through LinkedIn and how it's becoming more difficult for people to find jobs as prospective employers are googling them. The talk ended with John giving us advice about how to stand out on the cloud which included:
Being prepared to make any necessary transformations.
Collaborating with partners and the in house virtual account team.
Listen to what the customers want – keep it simple and offer choices.
Overall, I found Mr. Massey's speech very informative and interesting as he provided a completely new aspect from which to see cloud computing. I was shocked at how fast Cloud Computing appears to be effecting businesses but Cloud.
---
Our final speaker of the day was Shay Garvey, a partner and co-founder
 of Frontline Venture Capital. Frontline Ventures is Europe's first community-focused fund, creating a platform for innovative tech entrepreneurs building capital-efficient businesses in high-growth markets. Before starting Frontline Venture Capital Mr. Garvey spent seven years in the Irish startup industry as a founder and investor investor in two companies as well as the CEO of a major food exporter.
Mr. Garvey began his speech by telling us about both the positives and major issues associated with the Cloud based SaaS Business to Business (B2B) Model which include:
That it's very difficult for the business to be switched out by the client
There may be a risk of price erosion over time unless value is continuously added to software service.
Mr. Massey then continued on to talk about "The Bigger Picture" stating that, thanks to the ever changing technology, the way the society works and functions is adapting and modernising. Mr. Garvey told us that younger people are able to get higher up positions in companies nowadays where in the past it was expected that promotion would come with increasing age and years with the company. According to Shay the average age of CEO's in a business has gone down from 40 to 30 and can be expected to continue falling as younger people are becoming more qualified for the job. Mr. Garvey finished by sharing his prediction that in the near future more and more jobs are going to be delegated to computers meaning that many jobs are in danger especially ones with repetitive elements.
Overall, I found Mr. Garvey's speech very impressive, due to the volume of information and research that he had to share with us, and refreshing, as he seemed to share the slight fear that technology is going to render us all useless and unemployed in many fields in the future.
---
Conclusion
In conclusion, I thoroughly enjoyed our last DICE conference and found it to be as entertaining and informative as the other conferences were. I believe that all DICE students have benefited enormously from the mini conferences and that we have learned a lot of valuable lessons that will serve us well throughout college and in our professional careers. I'd like to finish by thanking all the speakers, that took the time to come and talk to us, as well as the DICE co-ordinators that organised all of the conferences.